Old Shoes Turn into New Wells
Proceeds for Poverty is an immense three day sale that uses 100% of the proceeds to give to those living in extreme poverty all over the world. Proceeds for Poverty is a unique event because everything that is sold is donated by people in the community.
This summer, despite the electricity outages due to the heavy storms in Virginia, the Proceeds for Poverty sale in Roanoke had astounding results. The 2011 Proceeds for Poverty sale raised $30,000 that will be used to pay for four clean water wells in India, a home for orphans in southern India, help for Syrian refugees in Jordan, food and clothing help for the people of Romania in winter, Christian Light School in Port au Prince, Haiti and for micro-business start-ups in India.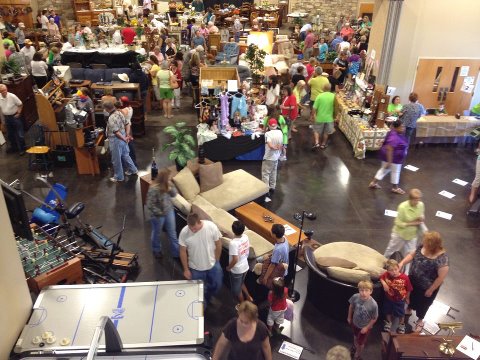 Proceeds for Poverty started in Roanoke, Virginia but is now starting to expand to other parts of the country. Georgia and Tennessee will be having Proceeds for Poverty sales soon. If you would like to have a Proceeds for Poverty sale in your area, give us a call at (540) 765-4300 and we will help you get started!
Roy Carter, the coordinator for Proceeds for Poverty in Roanoke, is looking forward to this year's event. He asks that people begin donating as soon as possible.
"Anything that is sellable— furniture, kitchen stuff, anything you feel we can sell. We have a place to put it already," Carter said.
Pickup times are normally on Tuesdays, but you can call Roy Carter at 540-537-2070 to get more information about donating.
Proverbs 22:9 "Blessed are those who are generous, because they feed the poor."
GPPD Journalist
Amanda Fortner