Pastor Woody Fisher's Story
Shaped Into His Servants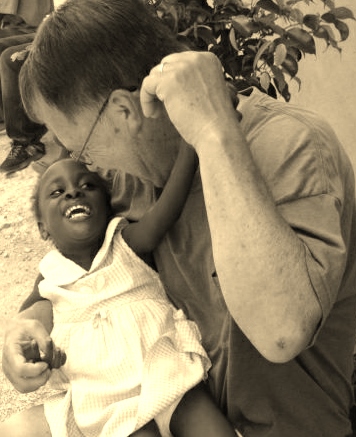 Every year GPartner Associates & Partners around the world host teams from the U.S. with the purpose of making a lasting impact.
Individuals, churches, groups, and families come home beating with a new perspective. This Pastor Woody Fisher's story from when he was on a helps team that did feeding progams and childrens programs in Port-au-Prince, Haiti. Please visit GPPD Trip Pages for more information on our trips.
As I reflect back on my trip to Haiti, there are certain scenes that replay in my mind and will remain with me for the rest of my life. The first occurred as a group of us visited a tent city, where thousands of people have been living in homes that are nothing more than blue tarps stretched over wooden frames to provide at least a bit of protection from the elements. As we walked through the area we were led by a Haitian Pastor. He knew many of the residents.
We were introduced to an elderly couple. The lady greeted us warmly and asked that we pray with her husband. We walked into the tent and saw him lying on a cot covered with several layers of blankets, even though the temperature was well over ninety degrees. He appeared to be very close to death, and we prayed for him. At the conclusion of our time with him, he asked how he could know God and as we explained more from the Bible, his wife, who was standing by, made a decision to follow Jesus as well. As we walked away I experienced a deep sadness to see these dear people living in such deplorable conditions, and at the same time I also experienced a tremendous joy, knowing they had found the true hope of this world.
Another scene that continually haunts me is the image of the thousands of children displaced from their homes and living in orphanages. Their parents were either killed in the earthquake or their homes were so disrupted that their parents can no longer support them. Everywhere we went we saw beautiful children. As I flew home towards Miami on that Friday I kept thinking that something had to be done for them, and I also thought of my grandchildren, two of whom were also on the trip. While I wept for the children of Haiti, I prayed for Matthew and Rachel [his grandchildren that went on the trip] that God would imprint some of those same images on their minds, and that He would use the Haiti trip to shape them into His servants.
As a father and grandfather, I know of no greater joy than seeing my daughter and grandchildren involved, as they were on the Haiti trip, in spending themselves on behalf of the hungry and satisfying the needs of the oppressed. I don't think a day has gone by that I have not thought of our Haiti trip.
Each time I recall the trip, I experience the twin emotions of sadness and joy: sadness at the depth and breadth of suffering the people there experience, and joy at having had the opportunity to do some small thing to minister to them. God has certainly used this experience in my life and I am grateful to Him for the opportunity.