Rani's Story
From Orphaned to Family
Orphaned at 7 years old, Rani was sent to live with her elderly grandmother to give her the opportunity to attend school. Later though, her grandmother began having some health concerns so Rani was taken out of school to care for her. As several years passed Rani still had a desperate longing to go back to school.
Rani is one of 35 million children that are orphaned in the country of India. Rani is not alone in growing up with difficulties attaining an education as millions of children in India grow up with little to no education. School, especially for girls, is nearly impossible for the poor living on less than $1.50 a day.
One day though, Rani's life was changed.
Rani's uncle had heard about a home for children and decided to take her there.
"There was good food, clothes, prayer, and songs in the home," she says. "I was happy and loved the other children there. There, I felt like I had a family."
Rani was brought to a Gpartners Children's Home where Caregivers loved on her and helped take care of her.
When a child is brought to a Gpartners home in India they are matched with a sponsor here in the U.S. who pays for their child's care. Through the generosity of a sponsor giving $30 a month they are able to provide food, clothing, a home, school supplies, education, medical care, personal hygiene items, and care for their child. Many sponsors write, send gifts, pray, and even visit their child.
Rani shares that "[My sponsor] took care of me like I was a part of her family."
She also explains what her time in the home was like.
"My caregivers cared for me like I was their own daughter and told me about God. I believed what they said about God, I had seen His great love, and I became God's daughter." Her life was changed forever!
"With God's help and love I completed school with good grades. I wanted to be a nurse since my childhood. I left the children's home and went to live with my uncle."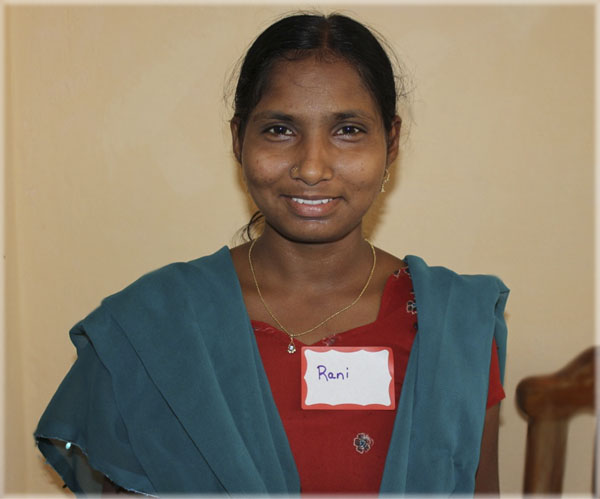 Rani had saved a lot of money, $175 and so she paid to go to nursing school, but quickly found out that it was a scam.
"They took all of the money I had." Because Rani did not want to be a burden to her relatives, but still wanted to go to school, her uncle encouraged her to get a job.
"Then I prayed to God."
Rani found work to do for several months.
"Then suddenly, God gave me a good gift. My former Caretaker told me about an opportunity to start a sewing business."
In 2012 Rani was a part of a sewing training class where she learned how to sew and run her own business through a Gpartners program.
"I am so thankful! I can use this sewing business to put me through nursing school."
"I thank Global Parnters in Peace and Development and all the people in America that gave me this opportunity."
"I believe this is all because of God's great love!"
Because of sponsors, prayers, and eternal investments of people here in the U.S. and Associates in India hundreds of young children are experiencing God's love and are being raised to be the future leaders of India. Gpartners wants to help raise up a generation of young people who know how to show and share God's love.
If you are interested in investing in a child's life or other opportunities to bring help and hope to the people of India visit one of these links to learn more about Taking Action, Child Sponsorships, or the Gift Catalog.