RUNNING WATER FOR THE LIVING WATER began in 2016. 14 runners were touched by the water crisis in rural India. Propelled by God's love, they ran in the Harrisburg Marathon to raise money for fresh water wells. Even in 2020, our team was able to participate in the socially distanced Harrisburg Marathon and relay to raise over $65,000. Over the past 5 years, our team has raised over $360,000, bringing clean water to thousands in both India & Uganda.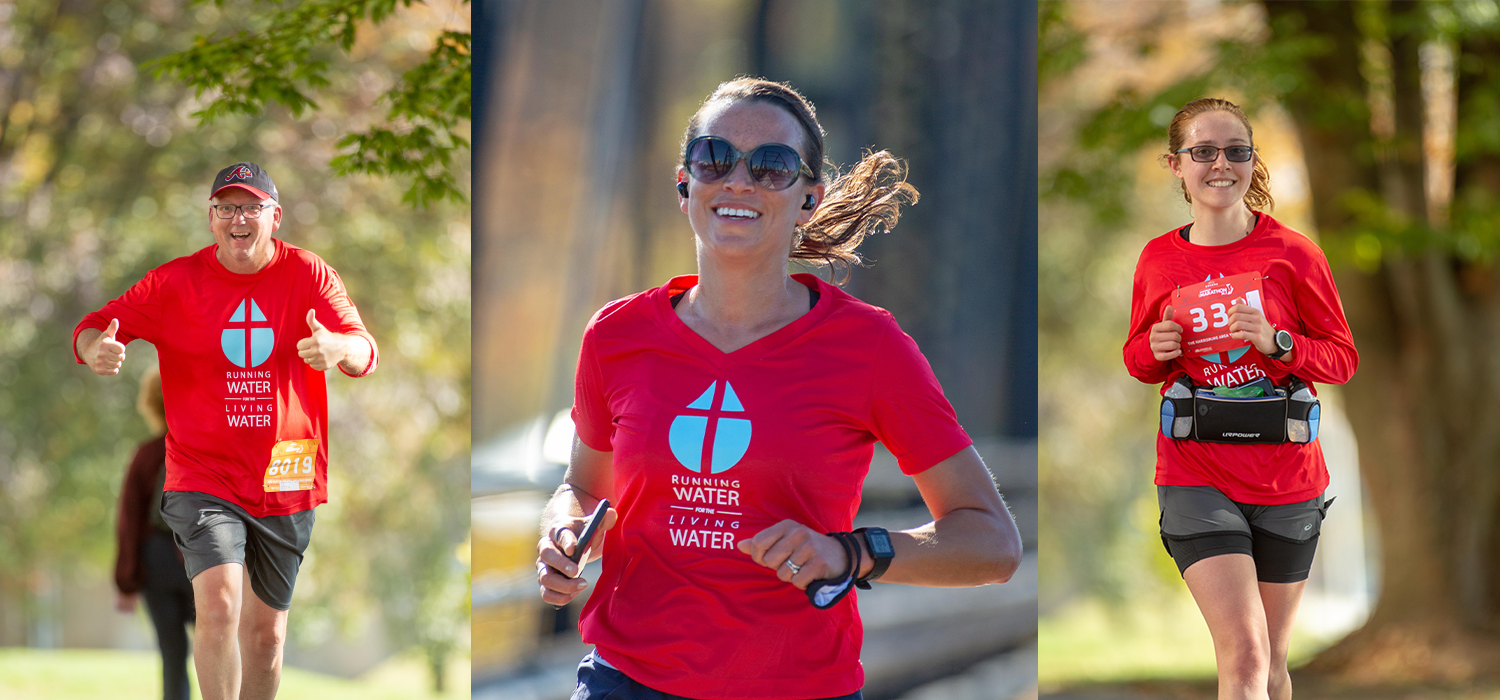 For the 6th year in a row, our team is running in the Harrisburg Marathon on November 13th and 14th, 2021. Run the entire marathon, or split the race between 2 or 4 relay team members.
Although the Virginia 10 Miler was cancelled in 2020, we look forward to racing forthe first time in Virginia in 2021!
We encourage you to use any race as an opportunity to raise funds and awareness for clean water. For information, contact mriggins@gpartners.org.
2. START A FUNDRAISING PAGE
Create your own fundraising page through FlipCause. Friends and family can give directly and securely to Global Partners,
and you can easily track your progress. This step is the ONLY WAY to officially join the Running Water team.
We challenge you to set a goal of raising at least $100 for every mile run, or funding an entire well for $2600.
Set up the page under your name or a team name (if you plan to pool fundraising with solo runners or a relay team).
Fundraising Ideas
There are endless ways to raise support for a good cause, but we have a few ideas to get you started.
Use your Skills: Do you have a skill set you could leverage to bring hope? Lawn care or yard work, music lessons, hair or makeup services, childcare and handmade products can all be offered for donations.
Sponsorship: Do you know a business or resturaunt owner who may be interested in supporting your cause with a sponsorship package? See more details in the Sponsorship section of this page.
Giving Up to Give Back: Is there something you could give up for a few weeks (Coffee run, ordering takeout, a subscription service, etc) to contribute to your cause?
Special Occasions: On your birthday, anniversary, or Christmas, ask family and friends for donations instead of gifts
Friendly Competition: Start an office, family or Vacation Bible School penny war to see which team can gather the most change.
Dare for a Cause: Adventurous types may enjoy a "Dare" style campaign, such as promising to shave your beard, get a pie in the face or record yourself lip-syncing a song if supporters help you reach your donation goal.
MORE WAYS TO TO GET INVOLVED
Choose a runner or team at the end of checkout
Check out official Running Water for the Living water gear. Proceeds support clean water programs!

SPONSORSHIP
Would you consider sponsoring Running Water for the Living Water at a personal or corporate level?
Click the button to donate, expand the menu to learn more, or reach out to mriggins@gpartners.org with any questions.
To view diamond, gold, silver, and bronze sponsorship opportunities, click below to expand.
Sponsorship Levels
Businesses and individuals who financially support our efforts at any level will receive pictures and GPS coordinates of the well contributed to.
In 2019, we had 200 runners and made various media appearances in Central PA. Our shirts are then continued to be worn by our runners - we see them all over the place

We utilize a Facebook group page with over 200 engaged members

We had over 600 individual supporters and many more who visit our donation pages

Nearly 2000 hits on our informational webpage in 2019 where we mention all of our sponsors
Donating the following amounts designates you as an official sponsor, whether you give to a specific runner or to the overall campaign. Donors may choose to be anonymous (Not featured on the t shirt/website).
BRONZE $250
Business or individual's name will appear on t shirt worn by group members on race day
SILVER $500
Name OR logo on t shirt, AND Sponsor name and logo on our race website
GOLD $1000
All of the above AND a framed picture of well dedication ceremony
DIAMOND $2600
All of the above, 2 complimentary race shirts, AND Sponsor/business name to appear on a banner at the well site. You will also receive a shareable link to a personalized video of YOUR well being dedicated with special thanks to you or your business name. The banner will be presented to sponsor as a gift after returning the US.

2021 SPONSORS
COMING SOON
SEE THE IMPACT
Joining the movement is simple: choose a race and start raising funds. But race day isn't the end- you get to see the impact your team makes in India or Uganda! Wells are typically dedicated in January or February immediately following race season. If you raise enough for a whole well ($2500), we'll send your team a personalized video* of the dedication, plus pictures, GPS coordinates and various details from the village your well was installed in.
*If you raise funds for a partial well, you will still receive details, but the video may include other runners whose funds were pooled together with yours.